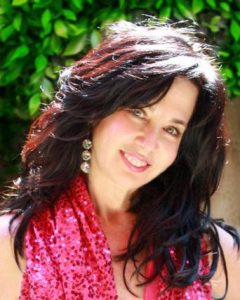 Lori Hart is a well-known Hollywood beauty artist specializing in healthy alternatives to plastic surgery. Her nurturing and very private healing rejuvenation spa, Lori Hart About Face And Beyond, is conveniently tucked away for your privacy and comfort. As you enter this exclusive wonderland of comfort and bliss, you immediately feel relaxed. Recognized as an anti-aging expert, her clientele reads like the Who's Who of Hollywood, Mariel Hemingway, Martha Stewart, Uma Thurman, Charlize Theron, Laura Dern, Diane Ladd, Pamela Anderson, Linda Gray, Donald Sutherland, Eddie Murphy, Timothy Dalton, Peter Coyote and many others. Lori is featured regularly in magazines such as Glamour, Self, LA Times, Ms Fitness, Women's Health & Fitness, Entrepreneur, LA Business Journal and has appeared on TV's Fox News, Good Day L.A., Eye On L.A., ABC, NBC, CBS, KCAL to name a few. She has worked on photo shoots for Playboy, Vogue, Rolling Stone, Vanity Fair, Forbes and worked on shows for HBO and Showtime. Lori was also selected for the exclusive Haven Beauty annual event for the Oscars.
Lori has run her own cosmetic company for more than 25 years and is continuously researching the most advanced technologies. Clients take advantage of her luxurious spa sessions regularly, as well as selecting a tailored designed program and products for home use. Lori says, "Authentic beauty begins with healthy skin", as she takes time to educate her clients in the area of skin aging prevention.
Read more about Lori Hart in the U.S. Commerce Association (USCA) press release for the 2010 Best of Marina del Rey Award in the Facial Salons category.
Press Release
FOR IMMEDIATE RELEASE
Lori Hart About Face and Beyond Receives 2010 Best of Marina del Rey Award
U.S. Commerce Association's Award Plaque Honors the AchievementNEW YORK, NY, May 26, 2010 — Lori Hart About Face and Beyond has been selected for the 2010 Best of Marina del Rey Award in the Facial Salons category by the U.S. Commerce Association (USCA).The USCA "Best of Local Business" Award Program recognizes outstanding local businesses throughout the country. Each year, the USCA identifies companies that they believe have achieved exceptional marketing success in their local community and business category. These are local companies that enhance the positive image of small business through service to their customers and community.
Various sources of information were gathered and analyzed to choose the winners in each category. The 2010 USCA Award Program focuses on quality, not quantity. Winners are determined based on the information gathered both internally by the USCA and data provided by third parties.About U.S. Commerce Association (USCA)
U.S. Commerce Association (USCA) is a New York City based organization funded by local businesses operating in towns, large and small, across America. The purpose of USCA is to promote local business through public relations, marketing and advertising.The USCA was established to recognize the best of local businesses in their community. Our organization works exclusively with local business owners, trade groups, professional associations, chambers of commerce and other business advertising and marketing groups. Our mission is to be an advocate for small and medium size businesses and business entrepreneurs across America.
SOURCE: U.S. Commerce Association
CONTACT: U.S. Commerce Association
Email: PublicRelations@us-ca.org
URL: http://www.us-ca.org
Her work speaks for itself! See her media exposure and celebrity clientele on her

resume

.